The painting is finished! I actually did it, all by my lonesome. And I'm very pleased with the result. It went from this...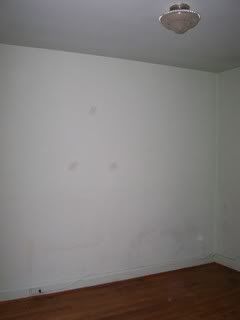 To this...
I was a little worried that the wall color might be too dark, but it looks great. Exactly the way I'd pictured it. You can't really tell the true colors from these pictures because of the lighting in the room, but the walls are a warm medium blue (
Behr's
Bleached Denim) and the ceiling and trim are a light blue-gray color (
Behr's
Cumberland Fog). The walls are a bit darker than they seem in the pictures, but the bottom picture is the closest to the actual shade.
Now that I've finished that little project, I'll be moving my furniture back in and getting things organized as my home office. I'm hoping to find an affordable futon or day bed to make it a combination office/guest room, but for now it's all book cases, file cabinets and desk.
I've already picked out the colors I'll be doing my dining room and kitchen. Now I just need more three-day weekends.