I came across this recipe while reading Eating Well during one of my workouts and I couldn't wait to get home and try it. I'd never had sardines before, so I wasn't sure what to expect. It turns out I love them. And I'm expecting this recipe will become a summertime staple. It's quick, easy and light, perfect for a hot summer evening--and leftovers were a perfect lunch the next day.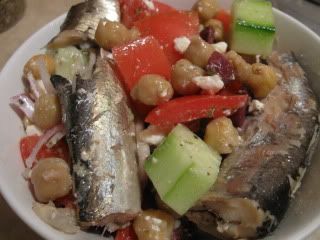 Greek Salad with Sardines
(Adapted from
Eating Well
)
Ingredients
Dressing
Juice from 2 lemons (abt. 3 TBSP)
2 TBSP extra-virgin olive oil
1 medium clove garlic, minced or pressed
2 tsp dried oregano
1/2 tsp freshly ground pepper
Salad
4-5 roma tomatoes
1 large, seedless cucumber
1 15-oz can chickpeas, rinsed and drained
2 oz feta cheese, crumbled
1/4 cup red onion, finely diced
10 Kalamata olives, thinly sliced
2 4-oz cans sardines packed in water, drained
Instructions
1. In a large bowl, place all the dressing ingredients and whisk together until incorporated. Set aside.
2. Chop the tomatoes and cucumber into large chunks and add to the bowl, tossing to coat with the dressing.
3. Add the chickpeas, feta, onion and olives and toss again to coat all the ingredients. Either refrigerate until ready to serve or move on to step 4.
4. Divide the salad among four serving dishes and top each dish with 1/2 a can of sardines (about 2 sardine filets). Serve immediately.
I only used one can of sardines (1/2 for dinner one night and 1/2 for lunch the next day) and I had the remaining salad without sardines as a side the next night and as lunch with some crusty bread the following day. The salad (and the dressing that goes on it) is really flexible. Have fun with it!