Sarah at Pink Cereal and Raspberries asked me a question about why I didn't post more about My Love. You can read my answers in her interview of me, but it got me to thinking about what parts of my relationship I might like to share with you all. Since it's Thursday, and I haven't done one of these for a while, I decided to present you with an Ode to My Love. It's kind of like my own version of "How Do I Love Thee? Let Me Count the Ways..."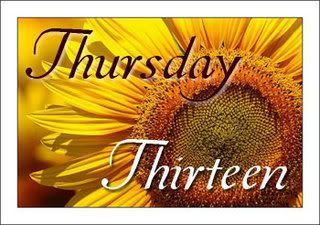 Thirteen Things I Love About My Love
1. He's loved me through thick and thin (literally). I can rest assured that whether I'm carrying an extra 20 pounds of post-baby weight, or I reach my ultimate goal weight, he'll always think I'm beautiful.
2. He isn't scared off by my crazies. I can be a bit of an obsessive nut-case, and for some reason this doesn't seem to phase him.
3. I fit perfectly in his arms.
4. He trusts me, and I'm learning to trust him despite some serious long-held trust issues.
5. When he smiles and his dimples appear, my heart melts.
6. He helps me relax when all my compulsive tendencies tell me to go go go and do do do.
7. He believes in me, especially in those moments when I'm finding it hard to believe in myself.
8. When I look in his eyes, I can see how beautiful he thinks I am. And that helps me see it, too.
9. He's a good dad.
10. He takes care of his mother, even when it's inconvenient.
11. He takes care of me, too.
12. He pays attention to what I like.
13. He's helping me be all that I'm meant to be.
Get the Thursday Thirteen code here!
The purpose of the meme is to get to know everyone who participates a little bit better every Thursday. Visiting fellow Thirteeners is encouraged! It's easy, and fun! Trackbacks, pings, comment links accepted!