Hummus is one of my favorite things to make when I need to bring something to a party or when I know I'll need some quick lunches or dinners. It's easy, flexible and so good. A high school friend mentioned she was eating chipotle hummus and it made me thing I should try whipping up a batch. This is the recipe that resulted, just in time for those Fourth of July barbecues. Whip a batch up and impress all your friends.

Chipotle Hummus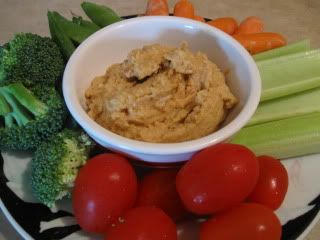 Ingredients
1 15-oz can chickpeas; drained, liquid reserved
1 large clove garlic
1 chipotle pepper, canned in adobo sauce
juice of 1 lime
1 TBSP olive oil
1 TBSP tahini (optional)
Instructions
1. In a food processor, combine chickpeas, garlic, chipotle pepper, lime juice, olive oil and tahini. Process on low.
2. Add 1 TBSP reserved chickpea liquid at a time, processing until hummus is desired consistency.
It's as simple as that. And healthy, too. Serve hummus on a veggie sandwich or as a dip for veggies and pita chips.