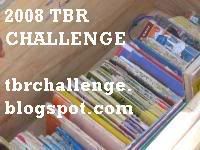 I've come up with my official list for the 2008 TBR Challenge. I've scoured my bookshelves (and my library list) for the 12 lucky titles that will make my challenge list, and without further ado, here they are, in no particular order:
Girl Meets God by Laura Winner Finished 1/16/08


Citizen Girl by Emma McLaughlin & Nicola Kraus Finished 4/12/08


Reading Like a Writer by Francine Prose Finished 12/21/08


I Know This Much Is True by Wally Lamb


The Mermaid Chair by Sue Monk Kidd


Nineteen Minutes by Jodi Picoult Finished 2/3/08


Gods in Alabama by Joshilyn Jackson Finished 8/31/08


A Hand to Guide Me by Denzel Washington


Hotel of Saints by Usula Hegi Finished 8/18/08


Writing Your Life by Lou Willett Stanek


We Are All Welcome Here by Elizabeth Berg Finished 3/14/08


Hollywood Worldviews by Brian Godawa
You might recognize some of these from
last year's group
. Since I didn't get to all 22 from last year, I figured I'd list them again. I'm going to have to read them all eventually! And just in case any of the first group turn out to be unbearable, or I'm just not in the mood for them, I've also selected 12 alternates (again, some of them from last year's list).
Alternates:
The Ha-Ha by David King


Writing Articles from the Heart by Marjorie Holmes


Writing Life Stories by Bill Roorbach


Tender Bar by J.R. Moehringer


Plain Truth by Jodi Picoult


I'm Not the New Me by Wendy McClure


To Own a Dragon by Donald Miller


Operating Instructions by Anne Lamott


A Thousand Splendid Suns by Khaled Hosseini


Nourishing Wisdom by Marc David


God's Politics by Jim Wallis


The Golden Compass by Philip Pullman
Again, if you want to join the challenge, visit
the official challenge site
and sign up. The more the merrier, and just think of how much room you'll be able to make on your shelves for more wonderful stories!