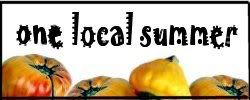 When I went to the farmer's market on Sunday and saw portobello caps on sale for a Father's Day special I had to have them. I tried a stuffed portobello recipe last summer that I absolutely loved. I was hoping to make them as my One Local Summer meal this week. Unfortunately, I couldn't find any local ricotta cheese for the filling.

After searching high and low (OK, just at the farmer's market and Whole Foods) I found some local goat cheese that I thought might work. I've never had chevre, so I wasn't sure what I was getting or what to do with it other than use it like I would feta--sprinkled over or tossed into a salad. It was the right consistency, though, so I thought I'd give it a try. After doing a quick internet search, I decided I wasn't going to stuff the caps and would do something different. Here's what I came up with, combining and modifying several recipes I came across.

Open-faced Portobello Stacks with Chevre Spread

Ingredients:

2 hard rolls (I used french rolls, but you could use any small to medium sized, hard crust rolls)
1/4 cup chevre
2 TBSP + 1 tsp balsamic vinegar, divided
2 tsp + 1 tsp olive oil, divided
1/4 sweet onion, sliced thinly
4 thick slices tomato
2 portobello caps, cut into 1/2-inch thick slices
salt and pepper to taste

Instructions:

Heat 1 tsp olive oil in a pan over medium heat. Add sliced onion and cook until caramelized. Remove from heat and set aside.

In the meantime, heat the grill. Spray or brush cut sides of each portobello slices with 2 tsp olive oil. Then brush with each portobello slice with 1 TBSP olive oil. Place on the grill, sliced side down and grill about 2 minutes on each side. Remove from grill.

In a small bowl, mix chevre with 1 tsp balsamic vinegar and stir until smooth.

Slice your rolls and grill sliced side down just until grill marks appear. Remove from grill and spread each side of the rolls with 1 TBSP of the chevre. Top each with one slice tomato, 1/4 caramelized onions and 1/4 the portobello slices. Drizzle with remaining 1 TBSP balsamic vinegar and season with salt and pepper to taste.

Makes 4 open-faced stacks (two servings).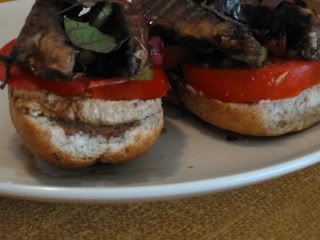 They were a little messy, but they were scrumptious and I'll definitely be making them again!

The Local Low-Down: All ingredients except salt, pepper, balsamic vinegar and olive oil were local. I paired the sandwich with a glass of local wine for a perfect, light and satisfying dinner.