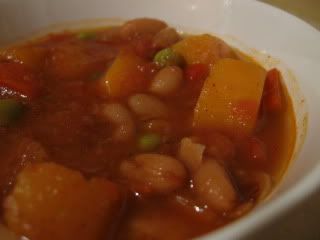 A little more than a month ago, I ordered Fresh From the Vegetarian Slow Cooker to expand my vegetarian dish repertoire and make better use of my slow cooker.

The first recipe I decided to make was Chipotle-Kissed Red Bean and Sweet Potato Chili. It's the only recipe I've tried so far, and I've made it twice--it's THAT good. I could eat this chili everyday for the entire comfort-food season and be totally happy.

I made a few adjustments, because the first time I made it I found it to be more like soup than like chili. I like my chili chunky and thick. Here's the version I created.

Ingredients

1 TBSP olive oil
1 medium yellow onion, chopped
1 medium red bell pepper, chopped
1 large clove garlic, minced or pressed
1 TBSP chili powder
1 1/2 lb sweet potatoes, peeled and cut into 1/2" pieces
2 14.5-oz can diced tomatoes
1 cup fresh or frozen peas
1 15-oz can dark red kidney beans
1 15-oz can white kidney (cannellini) beans (or other favorite bean)
1 1/2 cups water
salt to taste
1 canned chipole chili in adobo sauce (or to taste), finely chopped

Instructions

In a large skillet, heat the oil over medium heat. Add the onion, bell pepper and garlic and cook, stirring, until softened, about 5 minutes. Stir in the chili powder and cook for about a minute. Add the sweet potatoes and stir to coat with spices. (I did this step the night before and then put the "starters" in the refrigerator over night. In the morning I continued with the following step.)

Transfer to a 4- to 6-quart slow cooker. Add the tomatoes, peas, beans and water. Season with salt, cover and cook on Low for 6 to 8 hours.

Before serving, stir in the chipotle pepper and taste to adjust seasoning. Serve with crackers or corn bread.