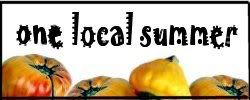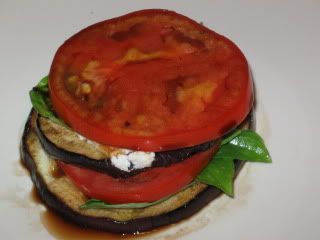 Last year I made Roasted Eggplant and Tomato Stacks. They were a big hit and I wanted to make them again, this time with local chevre. I did NOT, however, want to turn on the oven to roast the eggplant, what with the 90 degree weather this weekend.

Instead, I decided to grill the eggplant slices. I marinated them in balsamic vinegar and olive oil and tossed them on the old George Foreman until they were tender. Then I stacked the slices with chevre, basil, and tomato slices. I drizzled them with balsamic vinegar and savored every bite. As Rachel Ray would say, Yum-O!

(Local Low-Down: eggplant, tomatoes and chevre from the farmers market and basil from my back yard. Vinegar and olive oil not local.)

I also made a few mostly local dishes throughout the week. There was the Spinach and Goat Cheese Pasta (all local but the pasta, salt and pepper and oil). This dinner was delicious and the leftovers were just as good. I ate them several nights in a row.


For lunch during the week, I made a local Caprese Salad (all the ingredients were local except the balsamic vinegar and olive oil) with a piece of local baguette to sop up the extra balsamic vinegar.

It's been a great week for local eating!