I just finished cooking and immediately eating the best dinner I've had in ages. This recipe, inspired by one I saw on Giada, had three of my favorite ingredients: pasta, spinach, and my new love chevre. The resulting pasta dish was creamy, rich and full of flavor. Trust me, you want to try this one!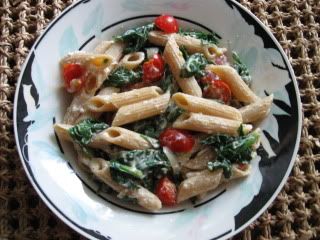 Spinach and Goat Cheese Pasta

Ingredients:

1 lb rigatoni
2 tsp olive oil, divided
1 small onion, sliced
1 large garlic clove, minced
6 cups packed fresh spinach, roughly chopped
1 cup cherry tomatoes, halved (or quartered if large)
6 oz soft goat cheese
salt and pepper to taste

Instructions:

Bring a large pot of salted water to boil and add pasta. Cook and then drain, reserving at least 1 cup of pasta water. Set aside.

In a large skillet, heat 1 tsp olive oil over medium heat. Add garlic and onion, cooking until the onion is soft and beginning to caramelize. Toss in the spinach and tomatoes, heating until the spinach is just wilted and still bright green. Remove from heat.

Add the pasta to the skillet and crumble the goat cheese over it. Stir or toss with tongs until the cheese is melted, adding enough of the reserved pasta water to create a sauce. Add salt and pepper to taste and serve.