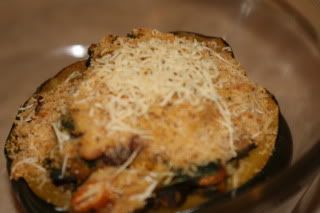 I've been subscribing to Eating Well magazine for almost a year now and I've found at least one awesome recipe in each issue. This one came to my attention at the perfect time: I had a bunch of chard and three acorn squash that needed to be used as soon as possible.

While I loved the flavor of the dish, I cooked it one night and ate it as leftovers for the rest of the week. I have to admit that it would probably have been better immediately out of the oven, because they seemed a little dry the next day. You might want to keep that in mind and make adjustments accordingly.

Ingredients

2 medium acorn squash, halved, seeds removed
1 tsp plus 2 TBSP olive oil, divided
1/2 tsp salt, divided
1/2 tsp pepper, divided
1/2 cup chopped onion
2 cloves garlic, minced
2 TBSP water
1 TBSP tomato paste
8 cups chopped chard leaves
1 15-oz can white beans, drained and rinsed
1/4 cup chopped kalamata olives
1/3 cup coarse dry whole-wheat breadcrumbs
1/3 cup grated Parmesan cheese

Instructions

Lay squash halves in a 9x13 microwave-safe baking dish, cut sides up. (If they stand on their own, you can slice a thin piece off the bottom so that they do.) Brush the insides of with 1 tsp oil and sprinkle with 1/4 tsp each salt and pepper. Cover with plastic wrap and microwave on High until the squash is fork tender, about 12 minutes.

In the meantime, heat 1 TBSP oil in a large skillet over medium heat. Add onion and cook, stirring, until it starts to brown, about 3 minutes. Add garlic and cook stirring for another minute. Add water and tomato paste, along with the remaining salt and pepper. Stir in chard, cover and cook until tender, about 5 minutes. Add the white beans and olives and stir, cooking until heated through, about 2 minutes more. Remove from the heat.

Preheat the broiler (I used the oven, 350 degrees).

Mix the breadcrumbs, Parmesan and 1 TBSP oil in a small bowl. Fill each squash half with about a cup of the chard mix. Sprinkle with the breadcrumb mixture and broil (or bake) until the breadcrumbs are browned. Grate a little Parmesan on top of each squash and serve.