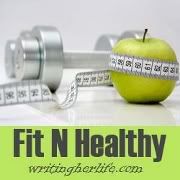 April is over and I hope everyone who joined me in my Active April Challenge met their goals, or at least made some progress toward them. Thanks to that check in last week, I did!

Now that May is here, I wanted to take on a new challenge, so I've decided to take the idea behind Active April and morph it into a monthly challenge that I could adjust based on changes I want to make in my life -- changes that will improve my health, fitness and overall wellness. I'm calling it the Fit 'N' Healthy Challenge.

The goal of Fit 'N' Healthy is to make and work toward one fitness, health or wellness goal each month. At the beginning of the month, I'll offer up a goal that we can all work toward and throughout the month I'll check in to make sure we're all on track. If the monthly goal speaks to you, feel free to jump in and join us. Just leave a comment letting me know you're trying to get fit and healthy, too. If the goal isn't for you, don't worry. You can still join in. Set your own goal for the month, post it in the comments and we'll cheer you on as you work toward your goal, too.

Alright! Let's get started. May's Fit 'N' Healthy Challenge is:


Get 30 minutes of moderate exercise 5 or more days a week.
That's it. You choose the activity, so long as it gets your heart pumping. The 30 minutes doesn't have to be consecutive, but let's aim for at least 10 minutes at a time.
Are you in? If so, you can check back here to report your progress and/or tweet about your progress using the
#fitNhealthy
hash tag. You can also grab the Fit 'N' Healthy button below to put on your blog.
Let's get Fit & Healthy!
Large Button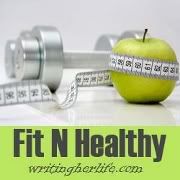 Small Button