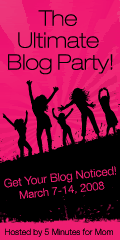 Like so many other things, I almost missed the biggest party of the year. It's the Ultimate Blog Party 2008 and everyone's invited. You can get your boogie on, too. Just head on over to 5 Minutes for Mom to learn more. But remember, it's BYOB (Bring Your Own Blog). Now get over there, get the scoop and get on the dance floor!
OK, now for the introductions. I'm
smtwngrl
and this is my little corner of the blogsphere. Here at Writing My Life, I like to write about, well,
my writing life
, but I also like to write about
food
,
books
,
health and nutrition
,
the environment and living a greener life
, and
anything
else
that strikes my fancy. After all, it's my party and I can blog what I want to, right?
I also write for a
health and nutrition blog
and a
green living blog
, and I'm working hard to build a freelance writing business so that one day I can say good-bye to my technical writing job in corporate America and work for ME. I'm learning to network and market myself, but it's not easy considering I tend to be a bit of a wallflower. Thankfully, I have found some
great
examples
to
learn from
.
So, now that you know a little bit more about me, why not take a look around? Check out my archives, take a jog around my blogroll or just close your eyes, spin around three times and point to a post. You just might find something you like. Welcome to
Writing My Life
!
P.S. The
Ultimate Blog Party
is offering tons of prizes for 2008. My favorites are:






Of course I'd also be happy with #70, 93, 91, 60, 9, 36, 79 or 21. There are
so many prizes
you'll have a hard time making your own wish list, I promise!
And this year you don't have to be a blogger to win. Just post a comment at the
official Blog Party post
and then leave comments at the blogs of at least 20 of this year's party-goers to qualify. I'm sure you'll find some new friends along the way, too, and isn't that prize enough?