In honor of the Ultimate Blog Party, I decided to give anyone visiting who hasn't joined (really, what were you thinking?) a taste of what I've been enjoying. These are just a few of the many bloggers I've met over the last few days, in no particular order. And remember, there were more than 1300 participants when I wrote this, and I've only had time to visit a little more than 100 of them, so this list is in no way representative of the group who joined and I'm obviously leaving out tons of great bloggers that I just haven't had the chance to meet yet. Still, I thought it would be fun to share the love. So click around and meet someone new!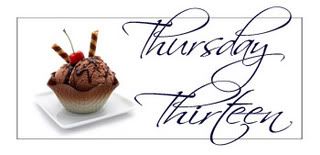 Thirteen New Bloggy Friends
1.
Jen's Genuine Life
- Living Life in the Peach State, this Native Atlantan Mom of Twins Offers Some Recipes and Menu Plans, Tips for Moms, and Glimpses into her Everyday Life
2.
Girlfriendology
- Inspiration, appreciation and a celebration of girlfriends
3.
Crunchy Domestic Goddess
- Raising social consciousness and a new generation of tree huggers since 2004
4.
Quirky is a Compliment
- She's quirky, 'nuff said.
5.
My LA Blog
- Life & Ramblings of an LA Blogger Gal
6.
Cherry Blossom Adventures
- An Aussie girl living in Tokyo with her Japanese boyfriend trying to make sense of her crazy yet funny Japanese life...
7.
Especially Heather
- Hope is necessary in all circumstances. A hopeful blog by a mother fighting brain cancer.
8.
Fully Alive...Ready to Smile
- ...recognize the true importance of a single moment in time, the instant when you are fully and completely alive!
9.
Genesis Moments
- A writer's journey
10.
Cabrelli's at Water's Edge
- Two Cabrelli's, a Zumchak and Ow and Colonel move to Nassau, Bahamas.
11.
T with Honey
- Just like tea, life can be served with lemon or honey
12.
My Two Boys
- Adoption, autism, family, friends and more...
13.
Duckabush Blog
- The musings and ravings of a bloggart family
Now remember, that's just a few of the 1300+ blogs joining in on the
Ultimate Blog Party
, so if you haven't already, head over there and check out a few more.