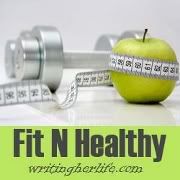 The first month of the Fit 'N' Healthy Challenge is now behind us. How did you do on May's goal to get 30 minutes of moderate exercise 5 or more days a week? Were you successful, or could you have done better? Did you actively pursue the goal, even if you didn't always reach it? Sometimes, not giving up on a goal is more important than reaching the goal itself.

I managed to eek out a successful month, despite some pretty lazy weekends and a lot of rain keeping me from my midday walks. The gym was definitely my friend in May. And knowing that I'd started this challenge and people would be checking in on my progress kept me pushing toward 5 active days a week. Thanks to my fellow challengers for that motivation!

If you're just joining in on the Fit 'N' Healthy Challenge, the goal is to make and work toward one fitness, health or wellness goal each month. At the beginning of the month, I'll offer up a goal that we can all work toward and throughout the month I'll check in to make sure we're all on track. If the monthly goal speaks to you, feel free to jump in and join us. Just leave a comment letting me know you're trying to get fit and healthy, too. If the goal isn't for you, don't worry. You can still join in. Set your own goal for the month, post it in the comments and we'll cheer you on as you work toward your goal, too.

This month's goal is targeting my personal tendency to stick with what I know. Inevitably, this leads to exercise boredom or an activity rut. Then I'm more likely to skip the exercise altogether instead of changing it up. So to jump start my fitness routine and get me out of my comfort zone, I'm encouraging a little exercise adventure.

June's Fit 'N' Healthy Challenge is:


Try at least one NEW exercise activity each week.
We're building on May's challenge, so keep exercising at least 30 minutes, 5 days a week. But this month, try adding in some new exercise activities. It's summer, so there are plenty of options out there. Get a group together, head to the park and play Frisbee, touch football or soccer. Take the kids to the pool and swim some laps. Or try a new fitness class at the gym. (If you haven't tried Zumba and you can find a class near you, I'd highly recommend it for a fun way to burn plenty of calories).
Are you in? If so, you can check back here to tell us what types of activities you're trying out this month and/or tweet about your progress using the
#fitNhealthy
hash tag. You can also grab the
Fit 'N' Healthy button
to put on your blog. (Thanks again to Mel, of
Mel's Box of Chocolates
, for the awesome challenge button!)
Let's have a Fit & Healthy June!