A lot of my favorite recipes are the result of looking for cheaper and easier ways to fit protein into my meatless diet. I love the convenience of frozen bean or soy burgers, but they're not exactly budget friendly. When Alana at A Veggie Venture posted a recipe for black bean burgers, I immediately gave them a try. They were delicious, so I filed away the recipe for future use -- and promptly forgot about it.

Fast forward a year and I've got black beans in my freezer from the farmers' market last season that need to be cooked and used to make room for fresher veggies. While I'm slow cooking them, I start to smell grilling food and craving burgers, but not the beef or turkey kind. I start craving those black bean burgers. I pulled up the recipe and got to work whipping up a slightly altered version based on what I had on hand.

Southwest Black Bean Burgers
Adapted from A Veggie Venture
(Makes 4 regular burgers or 6 sliders)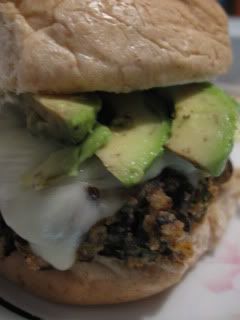 Ingredients
1 1/2 TBSP olive oil, divided
1/2 cup chopped yellow onion
1/2 a 4 oz. can chopped green chilies
2 cloves garlic, roughly chopped
1/2 cup fresh cilantro
1 1/2 cup cooked black beans (or 1 - 15 oz. can, drained and rinsed)
1 large egg, lightly beaten
1/2 cup bread crumbs
1/2 tsp cumin
1/2 tsp chili powder
1/4 tsp kosher salt
Instructions
1. Heat 1/2 TBSP olive oil over medium heat in a large skillet. Add the onion, green chilies and garlic and saute until the onions begin to brown, stirring frequently.
2. Transfer to a food processor and add the cilantro. Pulse a few times until roughly chopped.
3. Add the beans to the food processor and pulse several times, just until the beans are broken up into small chunks but not too pasty.
4. Put the bean, onion, chilies and garlic mixture into a large bowl. Add the egg, bread crumbs, cumin, chili powder and salt. Stir with a fork until well blended.
5. Form into four large patties (or 6 smaller ones). (If you are planning to eat them later, refrigerate at this point. You can also freeze them after they've chilled for about an hour. Just put them in a freezer bag. Thaw completely before cooking.)
6. Heat the remaining 1 TBSP olive oil in a large skillet.
7. Carefully add the burgers to the oil and cook 2 to 3 minutes on each side until browned and warmed through.
I wouldn't grill them unless, as Alana recommends, you use a grill basket. They're not solid enough to stand up to the grill grates. But they are hearty and flavorful enough to please just about any meat eater. I like mine topped with pepper jack cheese, sliced avocado and tomato, and a little bit of mayo. I'd suggest you make a double (or triple) batch and freeze some for later. You'll be thankful you did. These things are addictive!