I received a case of POM Wonderful 100% pomegranate juice after FitBloggin'10, and while I'm not much of a fruit juice drinker, I was happy to give this a try. After all, pomegranate is supposed to be one of those antioxidant-filled super foods. And those POM-tinis we were served at the FitBloggin' reception were quite tasty. If nothing else, I'd have plenty of juice for cocktail making.

I did enjoy a few POM mocktails (1 part POM, 1 part seltzer water), but by far my favorite thing to do with my POM has been to cook it. Yep. That's right. I've been using POM in my recipes. I've made a delicious, citrus-y salad with a pomegranate vinaigrette dressing, and a pomegranate glaze that would be great on just about any protein. I used it on shrimp, but I'm planning to try it on salmon, as well as on tofu.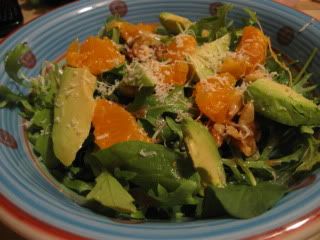 Citrus-y Salad with Pomegranate Dressing
Makes 2 servings.
Ingredients
Dressing
:
1/4 cup POM
2 TBSP balsamic vinegar
2 TBSP extra virgin olive oil
salt and pepper to taste
Salad:
6 cups arugula
1/2 avocado, cut into bite-sized pieces
2 clementines, peeled and segmented
1/4 cup walnut pieces
1 TBSP grated fresh Parmesan cheese
Instructions
1. Divide arugula, avocado, clementine segments and walnut pieces between two serving dishes.
2. In a small bowl, whisk the dressing ingredients until well combined.
3. Drizzle salads with about 2 TBSP each of the dressing. (There will be plenty of dressing left over for future salads.)
4. Top each salad with about 1/2 TBSP grated Parmesan cheese.
I ate this as an entree salad one night, but I used the dressing on salads throughout the week. The sweet tangy-ness of the dressing is a great compliment to the peppery arugula, but it was also good over a baby greens mix and romaine lettuce.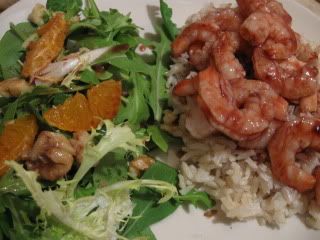 Pomegranate Glazed Shrimp
Makes 4 servings.
Ingredients
3/4 cup POM
2 TBSP balsamic vinegar
1 tsp brown sugar
1 tsp corn startch
12 oz cooked, shelled shrimp
Instructions
1. In a medium saucepan, whisk together first four ingredients over low-medium heat.
2. Bring to a simmer and cook uncovered, stirring frequently for about 15 minutes or until thickened.
3. Toss shrimp with glaze and serve.
I served the shrimp over cooked brown rice with the citrus-y salad on the side. It was the perfect combination.