It's 9:40 on Friday night and while I type this I'm smelling the scents of spaghetti sauce floating in from the kitchen. I'm cooking a huge pot of my mother's famous sauce, complete with real Italian sausage and hand-formed meatballs, for a neighbor's birthday party tomorrow. All he asked me for was my presence and a pot of spaghetti. How could I possibly turn him down? He is turning 60, after all. It's a momentous occasion.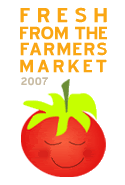 Since I can't leave the house, or do anything that takes extended periods of concentration because I have to be available for stirring and seasoning at regular intervals, I figured I'd post some of my recent Farmer's Market creations. (Sorry I don't have pictures.) Give them a try if you're feeling like you need a little local flavor in your life.

Tangy Vegetables and Chick Peas Over Couscous

Ingredients:

1 cup couscous, dry
1 cup water or broth
1 TBSP olive oil
2 cloves garlic, minced
2 spring onions, chopped
1/4 tsp salt
1/4 tsp black pepper
1/4 tsp nutmeg
1 bunch Swiss chard (about 15 leaves), with leaves removed from stems, stems chopped into bite-sized pieces and the leaves torn or chopped into small pieces
3 TBSP lemon juice
2 large tomatoes, diced (or one 14.5 ounce can diced tomatoes)
1 1/2 TBSP capers
1/2 cup chick peas

Instructions:

Bring the water or broth to a boil in a medium sauce pan. Remove from heat, add the couscous, stir and cover. Let it set for 5 minutes. Fluff with a fork and set aside.

Heat the olive oil over medium heat in a large skillet. Add the garlic, onion and chard stems and cook until slightly tender and lightly browned, about 5 minutes. Add the lemon juice, spices and chard leaves. Cover and allow to cook for 1o minutes, stirring occasionally.

When the chard is wilted, add the tomatoes, capers and chick peas. Stir and cook for 5-10 more minutes until heated through. Serve over couscous.

Makes about 4 servings.


---
Chunky Basil Tomatoes over Pasta
Ingredients:
8 oz. dry spaghetti
1 TBSP olive oil
2 cloves garlic, minced
4 or 5 large tomatoes, diced
1/4 cup basil, chopped
1/4 cup balsamic vinegar
salt and pepper to taste
Instructions:
Cook and drain pasta and set aside.
Heat olive oil over medium heat in a large skillet. Add garlic and cook until lightly brown. Add tomatoes, basil, vinegar, salt and pepper and stir. Cook until tomatoes are soft and liquid has cooked down slightly, stirring frequently, about 15 minutes. Serve over pasta.
Makes about 4 servings.
Enjoy!