Yesterday, My Love and I got up at 5AM and took a spontaneous trip to NYC. We weren't planning to be there long. Just long enough to do a bit of shopping on Canal Street and walk through the Farmer's Market in Union Square.

We found a parking space a few blocks from Union Square and fed $1.00 into a meter to park for one hour--a bargain in the Big Apple. The weather was beautiful, and it was early enough that it hadn't gotten too hot. From a block away, we could see the white-tent stalls lining the perimeter of the park. We walked through the market and I bought a few of my favorites: two bunches of asparagus, a half-dozen apples, a half-gallon of apple cider, 6 maple sugar leaves, and one large tomato. There were flowers everywhere and a lot of great arts and crafts vendors, too.
This was the shopping I had come for, honestly. While I like me a little fashion shopping on occasion, I love to experience new markets. The people, the smells, the sounds, the variety, it all makes me smile with peace and memories. And the produce in NY is a little behind the produce down here, so while the asparagus is almost at season's end in Maryland, it's much earlier in it's life cycle up there. I would have gone nuts and bought much more than I did if we didn't have a three and a half hour drive ahead of us.

This morning, I got up bright and early, hoping to beat the rain to the farmer's market downtown to get the rest of my fresh necessities for the week. I stood in a line for 15 minutes for freshly shucked peas. I picked out two stalks of rhubarb for a rhubarb sauce experiment prompted by childhood memories. I got a half-peck of Fuji apples grown on trees in an orchard in Gettysburg. I also picked up some Swiss chard to try, some baby red potatoes, two bags of mixed greens for salads, and a bunch of spring onions.

I came home and promptly cooked up a breakfast fit for a queen. I sauteed three stalks of asparagus in olive oil, just until they turned bright green, along with left over mushrooms and two chopped green stalks from the spring onions. I chopped a small, left over red potato with a slice of red onion and microwaved them for 2 minutes. Then I sauteed them in olive oil, as well, until the potatoes were soft and crispy on the outside.

While the potatoes were cooking, I whipped up two eggs with a dollop of milk and started an omelet. I chopped up two basil leaves and a little bit of parsley, straight from my container herb garden.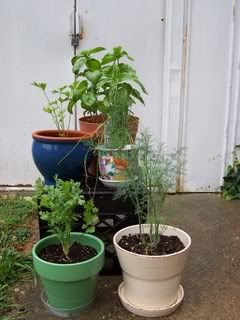 When the omelet was done, I put the asparagus, mushrooms and onion on one side, sprinkled it with some shredded cheddar cheese, and topped it with the chopped basil and parsley. Then I folded the other half of the egg over the top and slid it onto my plate.




Mmmmm...an omelet and homefries made mostly from fresh vegetables and herbs. A farmer's market breakfast big and healthy enough to hold back the hunger for hours, not like the usual oatmeal and English muffin I eat. I have a feeling I'll be spending a lot more time in the market and a lot less time at Giant this summer.