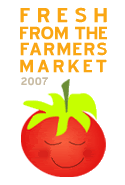 Mi Vida Local has me getting creative. When I'm shopping at the farmer's market, my eyes are always bigger than my appetite during the week and I end up having to come up with recipes to use up my purchases before they start going bad. Here are a couple of the concoctions I've come up with this week.

Green Bean and Feta Salad

Ingredients:

1 1/2 lbs. fresh green beans, trimmed
1/2 cup chopped red onion
1/4 cup crumbled feta
1 TBSP olive oil
3 TBSP balsamic vinegar
1 clove garlic, minced
salt & pepper to taste

Instructions:

Put about 1/2 inch of water in a large pot and add beans. Boil about 5-7 minutes until beans are tender but crisp. Drain and cool.

Once beans are cool, place in large bowl with cover and add feta and onions. In a small bowl, mix the olive oil, vinegar and garlic. Cover and shake until well combined. Pour over the beans. Toss lightly to coat and chill. Best served after several hours.


---
Balsamic Eggplant and Tomatoes with Mozzarella
Ingredients:
1 medium eggplant, sliced into 1/4 inch rounds
1 cup cherry tomatoes, halved
4 oz. mozzarella, cut into small chunks
1/4 basil leaves, torn
1 TBSP olive oil
1 cloves garlic, minced
1/4 cup balsamic vinegar
salt and pepper to taste
Instructions:
Grill eggplant until tender. Place cooked slices in a large bowl and add tomatoes and cheese. Drizzle with olive oil. Pour vinegar over the mixture and add basil. Add salt and pepper to taste. Toss gently. Serve at room temperature or chill.
Enjoy!