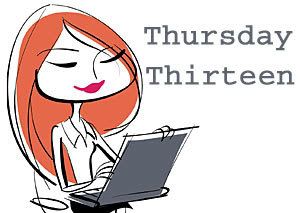 Thirteen Things I'm Doing to Amp Up My Writing Routine
1. The
14-Day Challenge
to write something creative for at least 30 minutes every day.
2. Joining a Creative Nonfiction writing group that meets once a month in my area.

3. Sending in my dues for the local writer's association so that I can attend regular meetings and network with other writers.
4. Scheduling time for my writing each day so that I can't make excuses and procrastination doesn't take over.

5. Using prompts like Sunday Scribblings and First 50 Words to motivate me when my muse isn't talking to me.
6. Reading those writing magazines that are piling up in my magazine rack.

7. Doing more market research to find publications that will think my essays are worthy of their printed pages.

8. Stepping out of my comfort zone to promote my writing and editing services to anyone and everyone I come in contact with that might need them.

9. Pursuing a really exciting writing opportunity that might lead to a published book.

10. Surrounding myself with people, places and things that encourage and inspire me.

11. Stretching my imagination and pursuing every idea through at least a shitty first draft.

12. Talking to more writers and networking more.

13. Taking chances on myself. I'm contacting editors I've worked with in the past in hopes of getting future assignments, and I'm stepping up to challenges that I wouldn't normally take on for fear of not being good enough.
Get the Thursday Thirteen code here!
The purpose of the meme is to get to know everyone who participates a little bit better every Thursday. Visiting fellow Thirteeners is encouraged! It's easy, and fun! Trackbacks, pings, comment links accepted!

*Thursday Thirteen graphic courtesy of Karen