We've had quite the hot week here, although it's cooled down nicely today. Enjoy this week's Thirteen!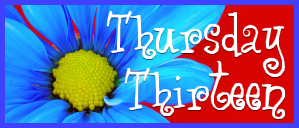 Thirteen Things I Do When It's Almost
100 Degrees Outside
1. Worry about the electric bill.
2. Suck it up and turn on the AC anyway.
3. Sleep on the couch because I'm too cheap to turn on the upstairs window unit, too.
4. Stay up later to read, write and/or watch TV because it doesn't feel like bed time if I'm not in bed.
5. Drink a lot of water and get up a dozen times during the night to pee.
6. Quickly learn to water the plants in the container garden first thing in the morning so they don't shrivel up during the day.
7. Stare longingly out the window and wish for a nice cool breeze so I can stand to go outside.
8. Remember what it was like this winter when I was wishing for hot summer days.
9. Enjoy the time with my lazy kitty, who seems to prefer the empty bed in the hot upstairs to the cool joys of the couch downstairs.
10. Make easy meals that don't involve turning on the stove.
11. Watch the grass in my yard grow inches each day without any remorse for letting it go. I could die out there mowing!
12. Let my hair air dry so that I don't have to turn on the hair dryer.
13. Be thankful I have a job that keeps me inside in the air conditioning all day.
Get the Thursday Thirteen code here!
The purpose of the meme is to get to know everyone who participates a little bit better every Thursday. Visiting fellow Thirteeners is encouraged! It's easy, and fun! Trackbacks, pings, comment links accepted!