I'd like to say that Erin has once again inspired a change of style, but I'm starting to fear I've become the haircut copy-cat. Either way, I'm in love with another new 'do. (Please excuse the makeup-less appearance. And I had a really hard time getting a good face-on self portrait with the available lighting, so you don't get one. Trust me, though, it looks good.)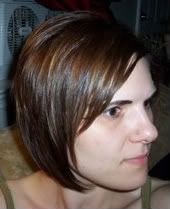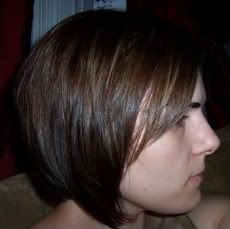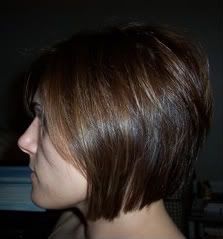 In other news this weekend:
I won $20 for Sephora and $10 for Target during the Bloggy Giveaway Carnival. Wahoo! Now, what to buy?
I saw Hancock last week with My Love. I know it got really bad reviews, but I actually enjoyed it.
I got the final word that Mexico in January is really on. I'm going to Mexico, people. Sun, sand and (gulp) beach. Must. Commence. Weight loss. NOW.
My skin is breaking out like crazy. At 32 I expect the occasional hormonal pimple, but my chin is starting to look like it did in my teens. Unacceptable. I'm afraid it may have something to do with my recent increased intake of carbohydrates.
I realized last week that I haven't eaten meat in weeks. How does that happen? It wasn't purposeful, but I think the plethora of veggies these days has usurped the presence of meat. I don't mind. My only concern is that I might not be getting enough protein. I see more fish and beans in my future.
My new favorite place is Panera. Did you know they have free wi-fi? And free refills on soda, coffee and tea? It's my new favorite place to go and write when I'm too distracted at home. (Or when I feel the need to be around other living, breathing human beings while I get some work done.) I also love their soup/salad combos. Yummy. This is NOT good for my budget.

It was an incredibly beautiful day today. The sun was shining and there was a nice breeze, not a single cloud in the sky. I actually took advantage of it and walked in the park this morning. It was 68 degrees at 9:30AM with practically no humidity. I'm not complaining, but that's a bit unseasonably cool for August 9th.
I hope you're all enjoying your weekend, too.