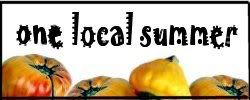 I'm a little late getting this up, but I did actually eat a local meal this week, despite my inability to motivate myself to get creative in the kitchen. Last summer at this time I was coming up with new and exciting (although not always tasty) dishes that used up the plethora of vegetables I was bringing home from the markets. This year, I'm struggling to come up with anything appetizing that doesn't take more than an hour to make from refrigerator to table.

This week, I discovered the tomato sandwich. OK, I rediscovered it. I remembered eating BLTs with my family on hot summer evenings and I absolutely loved them. While I'm not a big bacon eater these days, just the thought of fresh-from-the-garden lettuce and tomatoes on soft bread with a little mayo and some salt and pepper makes my mouth water. I didn't have any bread on hand, so I pulled out the bread machine and whipped up a loaf of whole wheat bread.*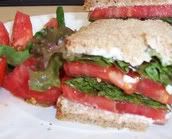 For lunch on Wednesday (and for a few other meals this week), I ate fresh tomato and lettuce sandwiches on homemade bread. The tomatoes came from a local farm stand, the lettuce from my CSA and the bread from my kitchen. For a side dish, I included some tomato wedges tossed with basil and a little salt and pepper. Easy. Local. Tasty. Perfect. (Non-local ingredients were mayo, salt and pepper.) In fact, I'm drooling right now thinking about them and might just have to start up the bread machine again.

I'm hoping I can make week 10 a bit more creative, but I'm not making any promises. There are plenty of tomatoes to be eaten, after all.

*Note about the bread: Most of the ingredients for the bread weren't local, but because they came out of my pantry and I made it in my house, I'm counting the bread local for this week.