First the CSA Stuff
Here come the veggies! Things are really picking up at the CSA and I'm starting to thing farmers' market trips will have to be limited. I'm going to have to control myself and stick to fruits and small amounts of a few special veggies (like tomatillos and corn) that I won't be getting from my CSA. This week I came home with:
2 large tomatoes & 2 large Roma tomatoes (2.25 lb)

1 lb green beans
2 small cucumbers (1 lb, I think)

1 head garlic
1 head lettuce
1 lb Swiss chard (includes additional 1/2 share)
1 small bunch scallions
1 medium zucchini (1.5 lb)
1 pint blackberriees

2 sprigs sage, 2 sprigs basil, 2 sprigs oregano
I also ran into another member who told me that I should plan to start getting overwhelmed by vegetables. She said they get a full share and last season her family of three had a really hard time eating everything. I guess I should start seriously preparing myself for some freezing and drying of vegetables in the near future. I've been putzing around with it a bit, drying my tomatoes, freezing some beans here and corn there, but it looks like I better start organizing the freezer for the onslaught to come.
And Then My Foodie Adventures

And speaking of tomatillos...(What? I mentioned them back there.) My most recent pseudo-foodie task was to turn those funny looking tomatillos that I got at the farmers' market into salsa verde. I'm a huge salsa fan and when I saw Tiffany's recipe for
Salsa Verde Chicken
, I knew I wanted to give this stuff a try. Since I was short on time, I looked for a recipe that I didn't have to cook and ended up basing my own recipe on a couple I found while searching my two favorite recipe sites:
Allrecipes
and
Cooking Light
. I'm sure there are many different versions of this salsa, but here's what I came up with:
Fresh and Simple Salsa Verde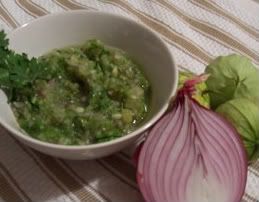 8-9 tomatillos, papery skins removed, quartered
1/2 medium red onion, cut into thick wedges
1/2 cup cilantro leaves packed
1 4 oz. can chopped green chilies, undrained
Combine all ingredients in a food processor and pulse until well chopped and mixed.
One word: Delicious.