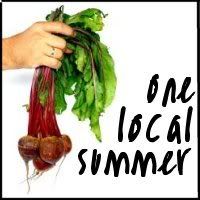 Before I get into all my foodie adventures, I managed to get my One Local Summer meal for Week 10 in just under the cut-off: a homemade pumpkin-zucchini muffin from Cat's Paw Organic Farm. I ate it for breakfast Sunday morning. I look forward to Cat's Paw muffins every Sunday. They're my weekend treat. I've tried every low-sugar, low-fat muffin they have--Lemon Blueberry, Nantucket, Morning Glory, Banana Honey Bran, to name a few--and each one has been better than the last. I only allow myself to buy one per visit because I know I'd be eating the huge muffins for breakfast every day if I didn't. And every week I resist buying her cookbook because I know I'd be tempted to make her delicious treats more often than necessary (or healthy).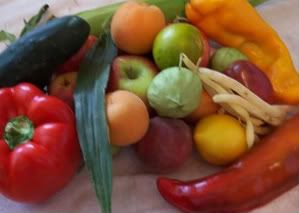 My trip to the farmers' market this week also produced a lot of great finds: peaches, apricots and apples, tomatillos, miscellaneous heirloom tomatoes, plum tomatoes, white corn, yellow beans, an onion, two cucumbers, red bell peppers and a couple longer-type peppers in red and yellow. If I had been thinking clearly, I would have gotten cilantro, too.

With all that great food I had to figure out how to use and/or preserve it, so I've been playing foodie. Here's the first of my food experiments:

Making Jam
When I got home tonight, I found the apricots I bought to make freezer jam had ripened much faster than I expected. It looked like I'd have to make up the jam tonight before they got too soft and mushy. Thankfully, the process was super easy. I used the
Ball Freezer Jam mix
(you can get it in the canning aisle of your favorite store). To make the jam, just crush enough fruit to make 3 1/2 to 4 cups (depending on the type of fruit), mix the packet with 1 1/2 cups sugar (or Splenda), and then add the fruit to the sugar mixture and stir for three minutes. Easy-peasy. It made five 8-oz.
containers
(also purchased in the canning aisle). Four went straight in the freezer and one is in the refrigerator. I was going to do up my peaches, too, but I wanted to see how the apricot jam turned out first, because it doesn't seem to be as thick as I'd have liked. It's more like a sauce than a jam.
When I do the peaches, I might try using less fruit per pectin packet. I also used the Splenda baking blend and reduced the amount by 1/3, using just a 1/2 cup of the baking blend (1/2 cup of the baking blend = 1 cup sugar). It tasted plenty sweet and I can't imagine this reduction had anything to do with the thinness of the jam, but I might be wrong. I may also try the full sugar amount next time just to be sure.
"Sun"-drying Tomatoes
While at the farmers' market, I got a half-peck of plum tomatoes (about 25) for $3.50 (who says eating locally is more expensive?). I had planned to dry tomatoes last year when I attempted to grow them myself, but never got around to doing it partly because my plants were ruined by birds (and my inability to grow things) and partly because I didn't know what to do with them. I didn't want to dry them outside in the sun (too many opportunities for pests and stuff, yuck) and I didn't want to preserve them in oil (too much added fat for my tastes). So I did some more research and figured out I could dry tomatoes in my food dehydrator and then freeze them. At this time, I'm drying more than two dozen plum tomatoes. A few of them are finished, but the majority of them are going on their 12th hour of drying. I can't wait to use these tomatoes in sauces and dressings.
And that, my friends, was my first foray into the world of a foodie. Stay tuned for future chapters as I take on tomatillos and heirloom tomatoes.