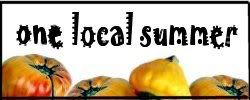 My refrigerator is overflowing with produce and I needed a local meal for the week, so I decided I'd make some soup. I figured I could make a big pot and freeze some for later, and it would use up plenty of the stuff I got from the CSA this week.
It turned out pretty good, very chunky and flavorful. It probably could have used a little more garlic and maybe some salt because I used sodium-free broth, but I'll leave that up to you. The recipe I came up with is below. I used a single large zucchini, about a dozen green beans, a couple handfuls of large cherry tomatoes, a small bunch of scallions and blue potatoes from the CSA and some white onion from the farmers' market, but you could obviously use whatever vegetables you have on hand and adjust the amounts to your liking. In fact, I was going to add some chard and frozen peas in the last few minutes, but forgot. Corn also would have been a nice addition.
Chunky Garden Vegetable Soup
4 cups broth
1 large zucchini, diced
5 scallions, white and green parts chopped
1 cup chopped tomatoes
8-10 baby potatoes, diced
1 cup cut green beans
½ large white onion
4 cloves garlic, minced
Chopped fresh basil, oregano and sage
Salt and pepper to taste
In a slow cooker, combine all ingredients and cook on high for about 2 hours or until vegetables are tender.
This...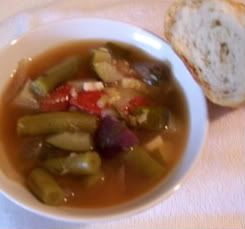 Became this.
For my OLS meal this week, I ate the Chunky Garden Vegetable Soup for lunch with bread from the Atwater's stand at the market. Simple, easy and tasty. (Non-local ingredients: salt, pepper, broth)