After watching a co-worker eat some traditional lasagna, all cheesy and delicious, I started craving the stuff. I knew I had a few lasagna noodles in the cupboard, along with some jarred sauce, shredded mozzarella and plenty of vegetables, so that night I stopped at the grocery store to get some ricotta and cottage cheese and headed home to make lasagna and feed my craving. This vegetarian lasagna was delicious with a slice of Italian bread and a salad made of baby greens and tomato slices topped with balsamic vinegar and olive oil.

Easy Vegetable Lasagna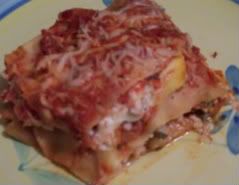 Makes 12 servings

1 TBSP olive oil
1 clove garlic, minced
1 medium onion chopped
1 small yellow squash, diced
1 small zucchini, diced
1 small green pepper, diced
1 bunch spinach or chard, leaves removed and torn
1 jar marinara sauce (32 oz), divided
1/2 cup part-skim ricotta cheese
1 cup low-fat cottage cheese
1 egg (or 1/4 cup egg substitute)
1/4 cup shredded part-skim mozzarella
9 no-boil lasagna noodles

Preheat oven to 350 degrees.

In a large skillet, heat the olive oil over medium heat. Add the garlic and saute until aromatic. Add the zucchini, squash, onion and peppers and saute. Once these vegetables are tender, add the spinach or chard leaves and cook until wilted. Mix three cups of the sauce (about 3/4 of the jar) into the vegetables and cook until heated through. Set aside.

In a small bowl, combine the ricotta, cottage cheese and egg and stir until smooth, creamy and well-combined. Set aside.

In a 9x13 baking dish, spread a small amount of the remaining jarred sauce to coat the bottom of the dish. Lay three noodles across the pan. Add half the vegetable and sauce mixture, adding about 1/3 of the remaining jarred sauce. Layer half the cheese mixture on top of the vegetables and sauce. Repeat the noodle, vegetable and sauce, and cheese layers once. Top with the remaining three noodles. Cover the noodles with the remaining jarred sauce and sprinkle the top with the mozzarella cheese.

Bake uncovered for 35-45 minutes, until sauce is bubbly, noodles are tender and cheese is melted.

What are your favorite lasagna ingredients?