Last week found me the proud owner of a gigantic zucchini. I'm not talking about a large zucchini, I'm talking about a zucchini the size of a bowling pin. Huge. Since I knew I wouldn't want to eat it all, I decided to shred it up and use it for zucchini bread. In an attempt to be semi-healthy, I sent out a plea for reduced-fat and/or reduced-sugar zucchini bread recipes. I didn't get any (but I'm looking forward to trying some of that chocolate zucchini bread in the future). I did, however, receive a very timely email from Eat Better America with a recipe for "Healthified" Zucchini Bread.

I made a few adjustments to the healthified recipe based on the ingredients I had and the comments made by others who'd tried the recipe and got two loaves of delicious zucchini bread. The original version had walnuts and used twice the sugar. I also substituted 2 tsp pumpkin pie spice for 2 of the 3 tsp cinnamon the recipe called for because I was unexpectedly out of cinnamon. The result was this recipe:

Use-That-Zucchini Bread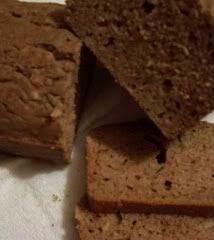 2 1/2 cup shredded zucchini
1 cup unsweetened applesauce
1/2 cup canola oil
3/4 cup fat free egg substitute
2 tsp vanilla
1 cup sugar (or 1/2 cup Splenda Sugar Blend)
1 1/2 cups all-purpose flour
1 1/2 cups whole wheat flour
1 tsp ground cinnamon
2 tsp pumpkin pie spice
1 tsp baking soda
1 tsp salt
1/4 tsp baking powder
non-stick cooking spray

Preheat oven to 350 degrees. Spray bottoms only of two loaf pans with cooking spray and set aside.

In a large bowl, mix the zucchini, applesauce and liquid ingredients with sugar until dissolved. Add remaining ingredients and stir until well blended. Divide mixture evenly between the two loaf pans. Bake 50-60 minutes or until a toothpick inserted in the center of the loaves comes out clean. Cool in the pans for about 15 minutes and then remove to a cooling rack and cool completely.

It wasn't chocolate zucchini bread, but it was extremely good. Next time I think I might add the walnuts, but if I didn't know it was reduced-fat and reduced sugar, I don't think I would have guessed it. If you try it, let me know what you think.