I've been cooking away over the last few days, partly to pass the time and partly because of this strange nesting urge I've had since the snow started falling. Of all that I've cooked so far, I thought I'd share this recipe because I really enjoyed it and it makes use of my newest favorite (and ever useful) appliance, the slow cooker.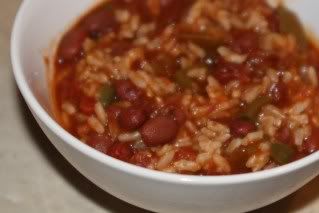 Slow Cooker Red Beans and Rice
(Adapted from Fresh from the Vegetarian Slow Cooker)

Ingredients

1/2 TBSP olive oil
1 small yellow onion, chopped
1 medium green pepper, chopped
3 garlic cloves, pressed or minced
1/4 cup tomato paste
2 tsp chili powder
3 cups red beans (or two 15.5 oz cans, drained and rinsed)
1 14.5 oz can diced tomatoes with green chilies
1.5 cups water or vegetable broth
1 tablespoon soy sauce
Salt and pepper to taste
3 cups cooked brown rice

Instructions

1. In a large skillet, heat the oil over medium heat. Add the onion, pepper and garlic and cook until just softened, about five minutes. Remove from heat and add the tomato paste and chili. Stir to coat the vegetables.

2. Transfer the vegetables to the slow cooker (at least 4-quarts). Add the beans, tomatoes, water and soy sauce. Season with a little slat and freshly ground pepper. Cover and cook on Low for 6 to 8 hours.

3. Just before serving stir in the rice (or serve over rice, if preferred).

This was a filling and flavorful meal. The green chilies gave it a little bit of a kick without making it too spicy, but you could use regular diced tomatoes if you prefer less heat. I served it with some fresh baked whole wheat bread, but it would have been delicious with a little crusty french bread or some warm corn bread (thanks to Kat for those suggestions!). And if you're only cooking for one or two people, don't worry, it was even better as leftovers!