I have to admit that the idea of making risotto has always scared me. I've heard all about how difficult it is, how long it takes, how only the best cooks should even attempt it. But a few months back, I saw a 12-year-old on the Today Show make risotto and claiming it was easy! Easy! Well, I thought, if a 12-year-old can make it, then certainly I can. So I went to the store and got the ingredients for a risotto I'd found searching the internet.

Then I promptly waited a couple of weeks (thank God squash keeps well) to try it. When I finally got up the nerve to make it, I did it in stages. Monday night, I chopped up the squash and onions. Tuesday night, I pulled the rice and stock from the pantry. Finally, on Wednesday I came home straight from work and got busy. In about 45 minutes, I had the most creamy, flavorful meal I'd ever had. And it really wasn't that difficult. (I will admit, though, that I undercooked the rice a bit this first time around. But because it still tasted wonderful, my mistake only encouraged me to give it another try.)

Fast forward to the week of the "snow-pocalypse" and here I am, snowed in with all the ingredients I need and nothing but time on my hands to give this risotto a second go-round. And so I did.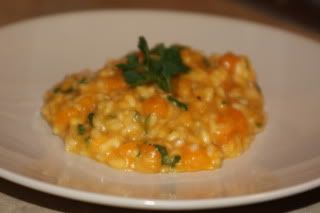 Creamy Butternut Squash Risotto
(Adapted from Martha Rose Shulman)

Ingredients

6 cups stock or broth
2 TBSP olive oil
1 small onion, chopped
1 small butternut squash (abt. 1 lb), peeled and finely diced
3 garlic cloves, pressed
1/4 tsp salt
1 1/2 cups Arborio rice
1/2 cup cooking sherry
1/2 cup freshly grated Parmesan cheese
1/2 cup chopped fresh parsley, plus more for garnish
1 tsp nutmeg
Freshly ground pepper

Instructions

1. Bring the stock to a simmer and keep warm throughout the process.

2. Heat the olive oil over medium heat in a large skillet. Add the onion and cook until slightly softened. Add the squash, garlic and salt and stir. Cook until the squash begins to soften, stirring occasionally, about 10 minutes.

3. Stir in the rice and cook stirring constantly until grains crackle, about 2 or 3 minutes. Add the sherry and stir constantly until almost all the liquid is evaporated. Add 1/2 a cup of the stock, stirring often until it is absorbed.

4. Continue adding the stock 1/2 a cup at a time as it is absorbed, stirring often, until the rice is cooked through (soft but not too mushy).

5. Add a final 1/2 cup of stock along with the Parmesan cheese, nutmeg, parsley and pepper to taste. Remove from heat and stir for a few seconds until well combined. Serve immediately, garnished with additional parsley sprigs.

This risotto is so rich and satisfying that my mouth is watering just typing this up. I can't wait to dig into the leftovers tonight. If you've been afraid (or just a little hesitant) to try making risotto, give this recipe a try. It's more labor intensive than some meals, but it's well worth the work.