Busy, busy, busy.
For this week's thirteen: 13 places I don't even have time to dream about right now.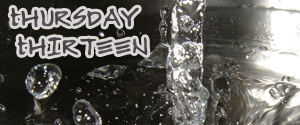 Thirteen Places I'd Like to Visit in My Lifetime
1. The Grand Canyon
2. Hawaii - all the islands
3. Sydney, Australia
4. A beach in St. Lucia
5. A Buddhist temple in China
6. The ruins in Rome
7. Greece
8. Sicily
9. Barcelona
10. Paris
11. Alaska
12. Georgia (Atlanta and Savannah)
13. A lighthouse in Maine
Get the Thursday Thirteen code here!
The purpose of the meme is to get to know everyone who participates a little bit better every Thursday. Visiting fellow Thirteeners is encouraged! It's easy, and fun! Trackbacks, pings, comment links accepted!