Something quick and easy for this week's Thirteen. I've been too busy to get creative. Just a few things you may not know about me.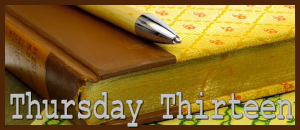 Thirteen Random Things About Me
1. My favorite fruit is kiwi.
2. When I can see the stars in the sky, I always have to find the Big Dipper. It makes me feel grounded to know it's always up there.
3. My initials spell a swear word.
4. My favorite soda is Diet Dr. Pepper. It used to be Diet Coke with Lime, which still comes in a close second.
5. I used to be a poor cook. Then I stopped relying on recipes and started experimenting, and now I think I'm pretty good at it.
6. I was my high school class valedictorian.
7. I'd rather spend money on a good meal than a CD.
8. I'd rather buy a new pair of shoes or a cute bag than buy a good meal.
9. My favorite color is red.
10. I look great in brown.
11. Fresh flowers make me smile, whether they're on my table or in a field.
12. Any movie with dancing in it is sure to be on my list of favorites. Yes, I like to live vicariously through those who have that talent.
13. The smell of vanilla or baking cookies can erase any hint of a bad day for me.
Get the Thursday Thirteen code here!
The purpose of the meme is to get to know everyone who participates a little bit better every Thursday. Visiting fellow Thirteeners is encouraged! It's easy, and fun! Trackbacks, pings, comment links accepted!