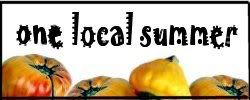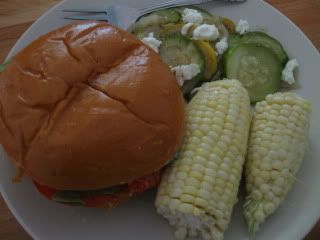 This week I found myself scrambling yet again to make my One Local Summer meal. It was Saturday already before I realized, while I'd been eating a lot of local dishes, I hadn't planned and prepared a fully local meal. So I sliced up a sweet and juicy local tomato, pulled some local lettuce leaves from the refrigerator and placed them both on a local sandwich roll. I made up some chipotle mayonnaise (not local except for the cilantro I added to it) and slathered it on the roll. On the side I had sauteed zucchini, yellow squash and onions topped with local chevre and some corn on the cob. A quick and easy local feast!

A few of the other local dishes I whipped up included:

Potato and green bean salad with honey mustard dressing
Tomato and scallion salad with balsamic dressing
Egg salad
Cucumbers with dill yogurt dressing
It's amazing how creative you can get when your refrigerator is overflowing with vegetables and you're just not sure what to do with them before they go bad.
As for my CSA shares, week 7 was a little sparse again: a quart container of red potatoes and a head of new garlic. The good news is we had a potluck at the farm today and found out things are about to get a bit overwhelming. Because the planting schedule was pushed back a couple of weeks, we're looking at an upcoming onslaught of green beans, tomatoes, peppers, squash and zucchini, eggplant and more starting the first of August or so. I'm really looking forward to seeing what the summer brings! The greenhouses are overflowing, the fields are getting greener, the blackberries are ripening...and because of the delay in planting it looks like we'll be getting vegetables well into November and maybe even December. I'm already dreaming of fresh, local holidays!