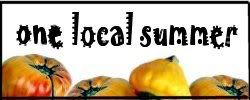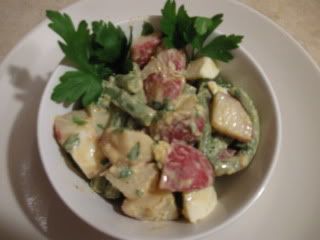 This week's featured local meal consisted of a large helping of my newest salad obsession: Potato and Green Bean Salad. I really wish I'd taken a picture, because it's pretty to look at, too.

I brought home a great haul from the farmer's market today and I'm looking forward to getting creative for my local meal this week. I've got eggs, fresh spinach, onions, an eggplant, green peppers, a cucumber, mozzarella cheese, white peaches, Summer Rambo apples, and apricots (probably the last of the season). That will be supplemented with what I'm expecting to be a pretty good share from the CSA this week that will probably include chard, scallions, potatoes and lettuce among other things. I'm also planning to pick up some local goat cheese.

Any ideas for local meals using these ingredients? Feel free to share suggestions. I'm feeling adventurous!