I got some great news on Friday. One of my personal essays is going to be published in an anthology of work by local writers! I'm so excited!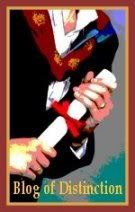 Then I got some even better news. I've been named as a
Blog of Distinction
. Started by
Working Mum on the Verge
, this wonderful award is given to bloggers who make us
"laugh, cry, think or sigh"
. And
Reluctant Housewife
thinks
I'm
a Blog of Distinction! I can't believe it! I'm so honored. Along with this award, comes the honor of passing it on to five wonderful bloggers that I think are distinct, five bloggers who make
me
laugh, cry, think or sigh. So, without further ado, here they are:
The ever-entertaining and thought-provoking Mocha Momma, who on various occasions has made me laugh, cry, think or sigh, sometimes at the same time.
My beloved Nejyerf at calling dr. bombay, who most recently starred in True Blogosphere Story, and is always making me laugh, often to the point of tears and ending with a big sigh of satisfaction.
A new favorite, Erin at Fully Alive...Ready to Smile, whose personal story made me cry, and who has managed to make me laugh, think and sigh ever since then. (Plus, she totally inspired me to get a new hairdo and I must say, it looks fantastic!)

The creative and inspirational Jen Lemen, who insists on making me laugh, think, cry and sigh at any given reading.
And last, but certainly not least, Belinda at Ninja Poodles, a wonderful mother who taught me all about Twitter and brings me the best in laughable, thoughtful, teary and sigh-worthy posts she possibly can amidst the whirlwind of her life.

Congratulations to the winners! Keep passing the distinctive blog-love.