I'm trying to spend a bit more time recognizing the blessings in my life. That's the inspiration for this week's list.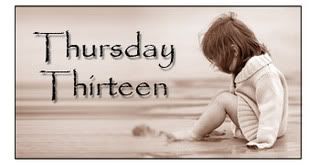 Thirteen Things That I'm Grateful For
1. Sunny days and warm spring air. They're making getting out of bed in the morning so much easier.
2. The ability to pay my bills, buy food, and fill my car with gas. Not everyone is as lucky.
3. A good mortgage broker who told me the whole story about my mortgage before I got it and helped me avoid the current foreclosure situation that so many are facing right now.
4. A strong body that keeps me moving toward my fitness goals.
5. My cuddly cat, who keeps me company when I'm lonely.
6. My Love, who can surprise me with the simple gift of his time and make me love him even more.
7. My mother, who has given so much of herself, not just for her children (biological and not-so-much), but also for so many others.
8. All of my family and friends, who continue to be a web of support and encouragement every day.
9. The ability to do what I love every day and make money for it (see #2).
10. Opportunities. So many opportunities.
11. A love for learning, something that keeps me reading, debating, caring and searching.
12. Everyday blessings, like bright pink blossoms on my azalea bushes, waking up to the chirping of birds instead of the beeping of my alarm clock, and a smile from a friendly stranger.
13. My dreams and goals; they keep me moving toward my best self.

What are you grateful for this week?
Get the Thursday Thirteen code here!
The purpose of the meme is to get to know everyone who participates a little bit better every Thursday. Visiting fellow Thirteeners is encouraged! It's easy, and fun! Trackbacks, pings, comment links accepted!