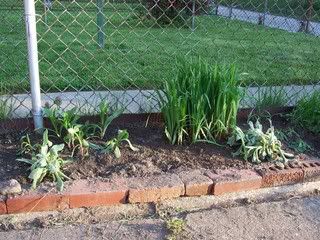 First, the garden. Now, when I planted these things, I definitely felt like it looked amazing. The tall stuff is irises. The floppy stuff in front is lamb's ear. And the cluster to the left in the back are daisies. I forgot to take a photo of the day lilies, which are further down in a different weeded patch.

This picture doesn't really do it justice, but you get the idea. When they flower, they'll be wonderful. Now, they're just a tiny patch of non-weeds among a much longer patch of weeds. I'll take more pictures as I make more progress and as they start to bloom.


Tada! The haircut! I finally decided to suck it up and post a picture of myself. I wasn't going to, but I just had to show off this great cut. I might even post a pic of it styled flipped under one of these days. It's very versatile and so easy to style.