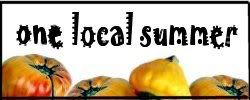 Today is the first day of One Local Summer. I got up early and headed to the Farmer's Market to find some fresh local ingredients for my first OLS meal. The options were pretty good considering how early in the season we are. I got two bunches of aparagus, several stalks of rhubarb, two quarts of strawberries, a half-pound of baby spinach, a pound of spring peas, a bunch of radishes, some red spring onions, cilantro, swiss chard and a few more herb plants for my garden (cinnamon basil, purple basil and rosemary). It was difficult for me to decide what to make, particularly because I had to make sure I didn't add any non-local ingredients.

Here's what I created: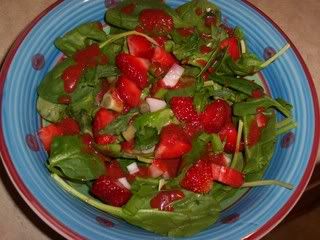 Baby Spinach and Strawberry Salad
Makes 2 dinner-sized or 4 side-sized servings.

Ingredients:

1/2 cup strawberries, halved
2 Tbsp. balsamic vinegar
1 Tbsp. extra virgin olive oil
1/2 Tbsp. fresh mint leaves

6 cups baby spinach
1 large radish, chopped
1 small spring onion, chopped, whites and greens separated
3/4 cup strawberries, quartered or cut in eighths
fresh mint leaves, for garnish

Instructions:

For the dressing, mix the first four ingredients in a food processor or blender until smooth. Cover and refrigerate until ready to serve.

In a large bowl, toss the spinach, radishes and onion to mix. Evenly split the salad into the number of servings you'd like. Top each salad with equal amounts of strawberries and add a few mint leaves. Drizzle with about 1-2 Tbsp. dressing immediately before serving.

* This salad would also be great with local feta or goat cheese and/or local walnuts. Unfortunately, I didn't have either of those. It was delicious just the same.

I can't wait to experiment this week with all my other market finds!