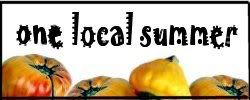 I'm not sure why, but this year I'm having a little bit of trouble getting excited about local eating. Last year I couldn't get enough of the farmer's market. Finding new veggies to try and experimenting with recipes was so much fun. But this year it all seems like so much...well, work. Maybe it's that last year I was just doing my best, trying out the "local thing" but not making a big deal about my non-local choices. Now I'm feeling pressured, by my own environmentally-conscious leanings as well as the cost of everything, to be more strict about my food and the places it comes from.

Now that the market options are becoming more varied--I was starting to get sick of all the greens, and lettuce is no longer my friend--things are starting to look up a little. This morning at the market, I found something to get excited about. Locally grown tomatoes! With all the scary news about salmonella, I can rest assured that these first tomatoes of the season won't make me sick. Now what to do with them? I'm sure I'll come up with something. In the mean time, brunch today is my second One Local Summer meal for the season. You might remember a similar meal I whipped up last year around this time. Since I don't know of any local rice or pasta, and my budget is making me hesitant to pay about $4 per pound for local chicken, I'm sticking to mostly vegetarian meals these days, especially when it comes to OLS. This is not easy.

I got lucky at the market and thought to pick up a dozen eggs from The Hen's Nest stand, so an OLS omelet and homefries it is: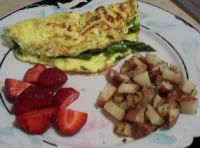 Asparagus Omelet and Red New Potato Homefries
Makes 1 serving

Ingredients:

1 tsp olive oil, divided
3 spears asparagus, cut into 1-2 inch pieces
1 small spring onion, chopped, green and white parts separated
1 TBSP garlic scape, chopped and separated
2 red new potatoes, diced
1 TBSP shredded cheese
fresh dill and parsley
salt and pepper, to taste

Instructions:

In a small, microwave-safe dish, microwave the potatoes for 1-2 minutes until fork-tender. In a small non-stick skillet, heat 1/2 tsp oil over medium heat. Add 1/2 the white parts of the spring onion and 1/2 TBSP of the garlic scape. Cook for a few seconds, until aromatic, and then add the potatoes. Sauté until browned. Place on a plate and cover to keep warm.

Wipe out the skillet and add the remaining 1/2 tsp oil. Place over medium heat and add the remaining garlic scape and whites of the spring onion, as well as the asparagus. Sauté until the asparagus is bright green and tender. Set aside.

Wipe out the skillet again and spray with non-stick cooking spray. In a small bowl, whip two eggs until slightly frothy. Heat the skillet for a few seconds and then add the egg. Sprinkle with chopped dill and parsley and cook until no longer runny, scraping the sides every few minutes to allow the liquid egg to reach the bottom of the pan.

Slide the omelet onto the plate. Place the asparagus mixture on one side of the omelet. Sprinkle with shredded cheese and a bit more chopped dill and parsley. Add salt and pepper to taste.


---
OLS Breakdown: Eggs, asparagus, spring onion, new potatoes and raw milk sharp cheddar cheese from the local farmer's market. Garlic scape from the CSA. Parsley and dill from my back yard. Oil, salt and pepper from my pantry (not local, but on hand). I also served this with a side of local strawberries. They won't be around much longer...*sigh*