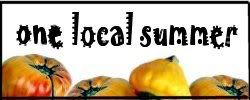 I've got tons of local produce to use up this week, so I got my OLS meal in early this week. It was a bit of a patchwork meal, with some inspired dishes that I randomly put together into a meal. There was the tomato and red onion salad that Michelle made over at Bleeding Esspresso. And the pickled kohlrabi inspired by Mikaela at md*intake. The poached egg was just inspired by a craving I've been having for days.


For my tomato salad, I made about half the amount Michelle did, and I used a spring onion instead of red onion. It was exactly what I expected. It's pretty amazing how something as simple as farmers market tomatoes and spring onion; fresh purple, cinnamon and Italian basil from my garden; fresh oregano from the CSA; and a little ground pepper and sea salt can be so incredibly flavorful and satisfying.

I've never had kohlrabi before, and when I read about Mikaela's pickled kohlrabi, I knew I had to try it. I was right. It was tangy and crisp, and I imagine it will be even better by this weekend--if it lasts that long. The only thing I'd do differently is cut the kohlrabi into smaller pieces. Otherwise it was perfect.

Then there was the local egg, simply poached and placed on a toasted slice of Ezekiel bread, the only non-local ingredient outside of the olive oil, salt and pepper that I used in the salad and pickles. And I topped it all off with a glass of Deer Run wine that I bought at a local winery when I was visiting my family for Christmas (That counts as local, right? It was local when I bought it.). It was a patchwork meal for sure, but it hit the spot.