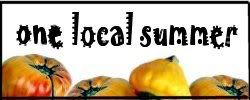 For my third week of One Local Summer, I made a mostly local meal, taking advantage of the variety of vegetables I picked up at the farmer's market last weekend and got in my CSA share for the week. The only ingredients that weren't local were olive oil, salt and pepper, and balsamic vinegar, as well as the wild rice I served the vegetables over. In addition to the Balsamic Chard and Zucchini dish I concocted based this dish on a few recipes I found on allrecipes.com, as well as my favorite Swiss chard dish from last year, I steamed some sugar snap peas and drizzled them with olive oil. All-in-all, it was a pretty filling meal considering there wasn't any meat or other significant protein source in it.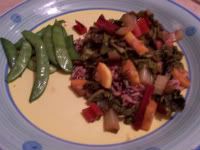 Balsamic Chard and Zucchini
Makes 2-4 servings.

Ingredients:

1/2 TBSP olive oil
1 large bunch of rainbow chard (about 15 stems), leaves separated from stems, stems chopped into 1/2 inch pieces, leaves torn into bite-sized pieces
1 spring onion, white and green parts diced
1 garlic scape, chopped (or 1 medium garlic clove, minced)
1 radish, halved and thinly sliced
1 small yellow zucchini, quartered and sliced (abt. 1/4 inch thick)
1/4 cup balsamic vinegar
2 TBSP fresh basil, chopped
salt and pepper to taste

Instructions:

In a large skillet, heat the oil. Add the chard stems, onion, garlic, radish and zucchini. Cook until stems are tender but still firm. Add the chard leaves, vinegar and a dash of salt and pepper. Cover and allow to simmer, stirring occasionally, until the leaves are wilted. Top with basil and serve on its own or over rice.

Give it a try. I think you'll like it. I know I did!