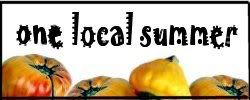 While I managed to squeeze in a local lunch last week consisting of grape tomatoes, mozzarella and basil drizzled with balsamic vinegar and olive oil, I didn't get time to write a post about it or take any pictures. This week almost went by without a post, too, but I remember this morning and made up a delicious local lunch to share for week 6 of One Local Summer.

A trip to the farmer's market this morning gave me great ideas for local meals in the coming week. I brought home ingredients galore. For today's local meal, I started with green beans and got creative.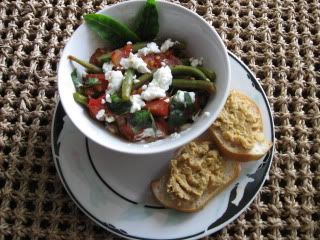 First, I steamed some green beans while I sauteed onion and garlic in some olive oil. When the beans were done (about 5 minutes) I tossed them in with the onion, one diced tomato, a little salt and pepper and a couple tablespoons of balsamic vinegar. I cooked it down for a few minutes, tossed in some fresh basil and then dished it up. I topped all that with a tablespoon or so of crumbled chevre.

For a little added oomph, I sliced up a baguette and topped a couple slices with a dollop of smoked hummus from Neopol Savory Smokery, which I only recently discovered although I've been walking past their stand for two years. The smokey hummus flavor is something I never would have considered if I hadn't tried a sample the last time I was at the market. I'd been thinking about it ever since and went prepared with a few extra dollars this week so that I could treat myself. It was well worth it, and I'm already thinking about trying their smoked salmon next time.

The local low-down: All ingredients were local except olive oil, balsamic vinegar, salt and pepper.